Here you'll find a wide range of activity worksheets and workbooks with lots of different types of activities and puzzles. Use them in Sunday School or Bible study.
The Crucifixion of Jesus
Mark 15 : 1 - 41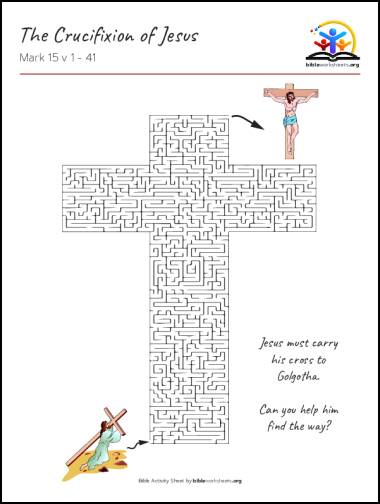 Easter Bible Activities
Simon of Cyrene was ordered to help Jesus carry his cross to Golgotha to be crucified. Help them find the way...
Keywords: Jesus, Christ, Golgotha, cross, crucifixion, death
Copyright © 2023 BibleWorksheets.org - Creating Bible Worksheets for Kids since 2005!
Scripture quoted by permission. Quotations designated (NET) are from the NET Bible® copyright ©1996, 2019 by Biblical Studies Press, L.L.C. http://netbible.com All rights reserved
Process time: 0.0841 s